Podcast: Play in new window | Download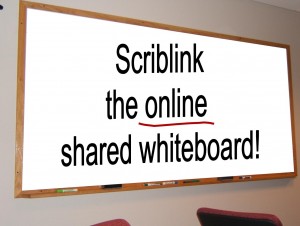 Online Shared Whiteboard: Scriblink!

Scriblink shared whiteboard page
Scriblink features include:
Privacy: the board is all yours, open only to the people you choose to invite
Dynamic Tools: use shapes, hundreds of colors, a size bar, a text feature, and a grid to help guide your drawings
File Options: gives you the ability to print, save, and email your work
Image Uploader: upload an image onto the whiteboard as the background, allowing you to share it, mark it, deface it, or highlight key elements
In-Screen Chat: when working with others, no need to sign in to third party software, simply use our in-screen chat
VOIP Conferencing: if you have a mic for your computer, you can automatically connect with your collaborators (no software necessary) and talk for free for as long as you like
File transfer: when emailing is too much of a hassle, simply transfer files directly to anyone you're working with
How might you use an online whiteboard to support learning?
Leave us a comment and let us know!
Listen to this podcast (or right-click link and "save target as" to download mp3)
Subscribe to this podcast via iTunes, RSS or email.
original photo by D'Arcy Norman